Bistrishka Chetvorka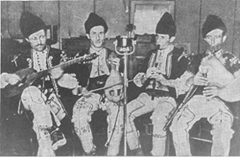 Bistrishkata Chetvorka
The Bistrishka Chetvorka (Bistritsa 4) was formed in 1935, according to Deyan Matein, tambura player with the group, and a founding member. These four musicians were pioneers in the creation of what would later become the classical formation of folk instruments dubbed "bitov orkestur" or folk orchestra.
Up until the mid 1930s traditional folk instruments were most frequently played solo, or in combinations of two different instruments, if the instruments' tuning allowed for it.
Coming soon are excerpts from a 1971 interview with the"Chetvorka"'s last living member and tambura player, Deyan Matein, conducted in Bistritsa by Lauren Brody.
For a complete history please refer to the book by Todor Kovachki "Bistrishkata Chetvorka" (in Bulgarian), published by edutechbg.com.
Listen to an audio clip of the song Ya stani, Milke from the CD Song of the Crooked Dance